Method And Steps For Making Makeup Sex Dolls
Nowadays, when sex dolls are produced, most have permanent makeup and not easy to fade, but as time goes by, the original makeup your doll has, especially where it's often rubbed, may get a little faded. In this case, what should you do to help your doll become gorgeous again?
The answer is makeup! Here are steps to finish your real love doll make up. But, the first thing you need to do is that prepare the makeup tools you need, such as makeup remover lotion, cotton sticks, cotton pads, Eyebrow pencil, concealer, lipstick. blush and so on. There are six steps to make up your real sex dolls.
Step 1: Clean your doll's face
Remove the head from the body and the wig, please don't submerge your dolls head in the water. Use a soft and warm sponge with antibacterial soap to gently wipe your doll's face. Gently dry the doll's face with a soft and clean cloth and then allow it to sit for an hour after this to dry naturally.
Step 2: Decide where to apply makeup
Please attention that sex dolls are not a real person, they don't need any moisturizer and are not necessary to apply all kinds of products. You can make sure the main areas you need to apply makeup based on your doll's actual situation. Applying the mum things to make you feel better with her is enough.
Step 3: Do Eyebrow makeup
If your real sex dolls eyebrow faded a lot, maybe it's time to create new eyebrow for her. You can choose the best eyebrow shape for her face according to her face shape or your favor. If her eyebrow is just a little bit faded, you'd better focus on sparse areas and follow the original eyebrow shape to fill in her eyebrows with an eyebrow pencil of the same or deeper color.
Step 4: Apply mascara
Mascara will make your doll's eyes look brighter and full of life, and I guess that you prefer a woman with thickly done eyelashes! Let's learn how to apply mascara for your love doll now.
Curl her lashes with a lash curler. Place the curler at the base of her upper lashes, close the curler and hold it in place for a few seconds. Take the tube of mascara, swirl the wand around to coat the bristles with the mascara. Start at the roots, apply the mascara with a wriggling motion. Comb them out with the help of a clean wand when there are lashes that are sticking together. Let the mascara dry for a few minutes. You can use lash curler to curl again if required. Now use the lash curler again, for added curling. Of course, if you want thicker lashes, maybe you can try the false eyelashes!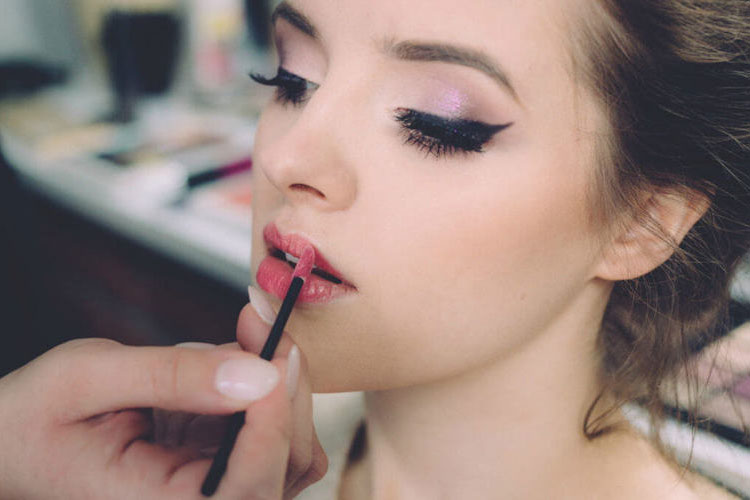 Step 5: Do Blush Makeup
Choose the right blush for your doll, use a baby pink, peach, or sheer plum color if she is fair-skinned. Get a rose or bronze-colored blush if she is olive-skinned. Use an apricot or mauve color if your doll has a medium skin tone. Opt for raisin, brick, or bright tangerine if she has a dark complexion. Secondly, swirl a small dab of color onto the apples of your doll's cheeks and buffing it out in circular motions. Thus your doll has a pretty and youthful glow now!
Step 6: makeup the lips
Finally, to make your realistic sex doll become sexier, the lips makeup is necessary. Firstly, judge the condition of the doll's lips. If her lips color just fades a little and the lips line is still clear, you can fill in her lips with a lipstick or lip gloss that's most similar in color. Of course, you can also apply lipstick with other colors for your love doll.
If her lips color fades a lot or you want to give her a new look, it's better to choose a lipstick or lip gloss whose color is deeper than the previous lip color. Choose a concealer shade that matches her lip color and dab a little on her lips. Take some lipstick onto a lip brush and apply it evenly all over her lips. Blot the lips using a tissue paper to blend the color into her lips for a longer lasting result. Apply a layer of lip gloss to giving her lips extra fullness.
To avoid any damage to your love doll, we don't recommend any makeup when your doll's face is in good condition.
---