There are many customers who have seen many beautiful love dolls on the Internet, but cannot find the type or design they like. Therefore, Oksexdoll Store provides advanced fully customizable sex doll services to help you create a sex doll lover of your own. You just need to provide your ideal lover pictures, and we can help you realize your fantasy. We can even make customized love dolls based on the information you provide such as height, hairstyle, skin color, areola size, breast shape, etc. We use state-of-the-art technology and methods to create real dolls that are as realistic and life-like as possible, whether you want a sex doll that resembles your favorite celebrity or a replica of a specific person in your life. Hurry to realize the crazy dream!
INFORMATION REQUIRED FROM YOU
1. Pictures and/or videos showing the type of body you want from multiple angles.
2. Close-up pictures or images revealing body parts in detail.
3. A detailed description of body specifications.
4. Other customizable sex doll requests.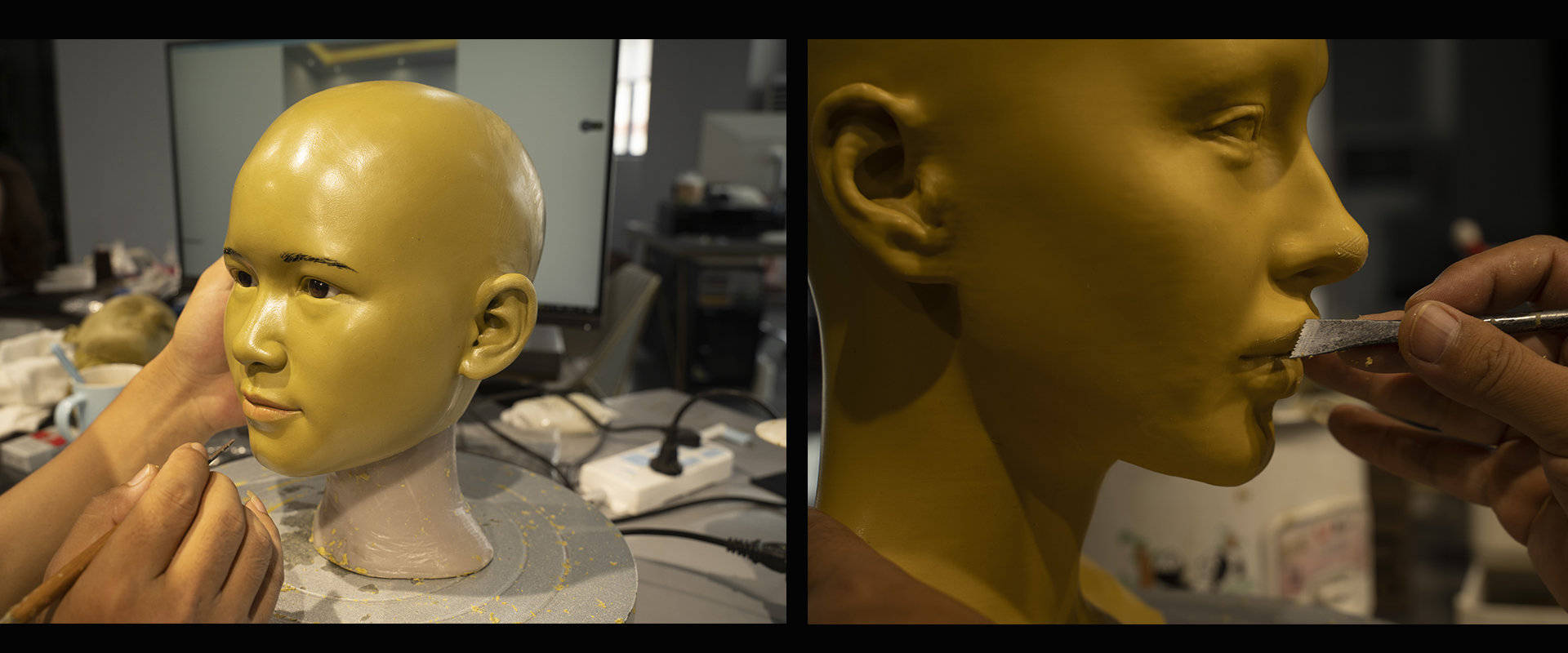 Sex Doll Custom - Process Introduction
The process of customizing a sex doll involves several important steps to ensure that the final product meets the customer's desires and expectations. Here's an overview of the key stages in the customization and production process:
Bilateral Negotiation: The customization journey begins with clear and high-quality photographs of the person the sex doll is meant to mimic. Communication between the customer and the manufacturer is essential to establish the desired custom character and determine the style of the sex doll. This phase includes signing relevant customized authorization, contracts, and release documents, as well as making an advance payment to initiate the process.
Sculpt or Model: Skilled artists or sculptors use the provided photographs to create a clay or 3D model of the sex doll. Continuous communication with the customer ensures that the model accurately represents the desired functionality and features. Adjustments can be made as needed during this phase.
Molding: After the clay or 3D model is finalized, the client is typically provided with an image or video of the model for review and confirmation. Once approved, the model is used to create molds for the final product, ensuring consistency and accuracy.
Production: With the molds in place, the sex doll is then produced using the chosen material, which can be silicone or TPE (thermoplastic elastomer). The choice of material depends on the desired texture and feel that the customer wants for their sex doll.
Makeup: An experienced artist or technician collaborates with the customer to discuss and finalize makeup options. This includes details such as skin tone, eye color, lip shape, body paint, and any other specific features the customer wishes to emphasize or customize.
Quality Control: Rigorous quality control checks are conducted to ensure that each sex doll meets the customer's specifications and adheres to the highest quality standards. This step is crucial in identifying and rectifying any defects or issues with the product before it is delivered.
Transportation: Upon passing quality control, the custom made sex dolls are discreetly packaged and shipped to customers. The packaging is often designed to conceal the nature of the contents, with no identifying information on the labels or packaging to ensure privacy and discretion.
The customization and production process for sex dolls is a meticulous and collaborative effort between the customer and the manufacturer to create a product that aligns with the customer's preferences while adhering to quality and privacy standards. Communication and attention to detail are paramount throughout this process to ensure a satisfactory and personalized end result
Rules for Customizable Sex Dolls
Creating custom sex dolls is a sensitive and intricate process that requires adherence to ethical, legal, and practical guidelines. Here are some essential rules and considerations when making your own custom sex dolls:
Obtain Permission or Authorization: Always ensure that you have explicit permission or authorization from any individual whose likeness you intend to replicate in a custom doll. Respecting the privacy and consent of others is paramount.
No 100% Identical Celebrity Real Dolls: Avoid creating custom orders for love dolls that are intended to be 100% identical to celebrities. Strive for a likeness of up to 90% to avoid legal and ethical issues related to celebrity likeness rights.
Handmade Variability: Recognize that the final doll is handmade and may have slight variations from the initial design due to factors like data measurement and hand painting/makeup. These minor differences are normal in the custom doll-making process.
No Likeness: It is essential to maintain ethical standards and legal compliance. Do not provide photos of for the creation of sex dolls or any dolls intended for adult use.
Cancellation Policy: Understand that custom orders, once placed, may not be canceled. This is a standard practice in many custom manufacturing processes, as the production begins promptly after an order is confirmed.
These rules and considerations ensure that the process of creating customized sex dolls is respectful, lawful, and ethical. Adhering to these guidelines helps maintain the integrity of the process and promotes responsible and considerate doll customization.