The most traditional doggy style is simple. The doll's knees (or elbows) support the body, or the front chest is directly attached to the bed, try to raise the buttocks; the man kneels behind him, caressing her small waist to enter from the back, the man grabs the doll's buttocks forcefully hit the penis is a complete traditional doggy style position.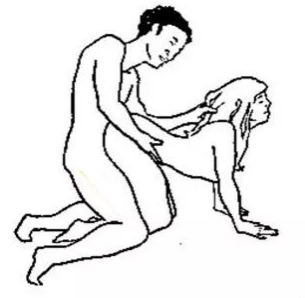 How to sex with traditional doggy style dolls?
The man gently licked the doll's back, one hand stretched from the armpit to her chest and rubbed her nipple, one hand wrapped around her lower abdomen to the front to pinch her teat. Or hit her ass. Or, touch her back with one hand, grab her shoulder with one hand, and pull her upper body to strengthen the strength while hitting the lower body. Or! give the doll a small scorpion, and pull your "pony" with your hands like a reins. Or! inserting your index finger into her anus to make her unforgettable...
Tips for traditional doggy style
The only thing that has been said many times is that keeping the waist of the doll down! remember! When the ass is raised, the lower the upper body is placed, the more stimulating it is. Compared with the traditional sexual posture, the playability of doggy style is much higher! Men just have to remember one sentence: the hand must not be idle.
Remember, the premise of all this is that you have a doggy style sex doll
Conclusion
The basic position of doggy style, flexibility and playability are very high.